Why Choose Crown?
Crown International is the premier manufacturer of amplifiers, microphones, and systems control products for professional audio markets worldwide. Tree Ridge incorporates Crown amplifiers into its custom-designed high quality business music systems throughout Vermont.
MORE REASONS TO CHOOSE CROWN
CH/CL Series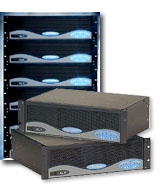 Looking for a quality, constant voltage and low impedance two channel amplifier for your restaurant, nightclub, retail store, school or place of worship projects? Crown's new "Contractor Series" CH/CL amplifiers are designed just for you.
CH Series - Crown delivers three models (CH1, CH2 and CH4) designed for both low and high impedance outputs per channel. With the CH1 and CH2, each channel is independently capable of 4/8 ohm, 70V or 100V operation. Each channel of the CH4 is independently capable of 4/8 ohm or 70V operation.
CL series - Three additional models (CL1, CL2 and CL4) offer low impedance compatibility for applications where high power, low impedance loads are the primary requirement. The CL Series models provide 2, 4 and 8 ohm options per channel. The powerful and flexible CH Series amplifiers also include 70 Hz High Pass Filters on each channel, giving your customers the necessary low-frequency roll-off to eliminate saturation of constant-voltage step down transformers typically used in 70Vand 100V distributed systems.
Studio Reference Series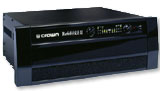 Engineered for the critical demands of recording studios, the Studio Reference Series amplifiers are more than a new benchmark for precision amplifiers. They're an investment in long-term performance that anticipates and achieves the next step in professional audio demanded by studios and serious audiophiles.
Featuring an extremely wide dynamic range capable of accurately reproducing digital recordings, combined with super low harmonic and intermodulation distortion, these amps provide the best transfer function in the business. They also feature a damping factor of better than 20,000 for absolute speaker control with a tight, well-defined low end.
Sonic accuracy is just one of the advantages of the Studio Reference. Patented ODEP circuits detect and compensate for any demanding load condition, while PIP expansion permits easy customization with add-on electronics.
Microtech Series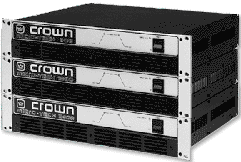 Crown's first touring workhorse, the Micro-Tech Series, delivers industry standard performance and reliability.
Able to drive low-impedance loads with ease, Micro-Tech amplifiers feature three separate power supplies for exceptional reliability and impressive power ratings. Crown's patented ODEP circuitry keeps the amplifier working long after others would quit. Grounded bridge circuitry doubles the available voltage without placing output transistors in stressful configurations like other more conventional amplifiers. The unique forced-air cooling system makes certain heat is dissipated quickly and evenly. As a result, you get maximum performance without the threat of damage to the amplifier or other system components.
XLS series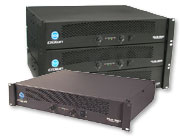 The XLS Series of power amplifiers from Crown represents a new era in affordable, quality power amplification. The line consists of three models in a uniform, rugged chassis, incorporating the best of tried-and-true design principles and innovative features. XLS Series amplifiers are professional stereo power amplifiers engineered to meet demanding audio requirements—reliably and within budget. Plus, every XLS Series amplifier is backed by Crown's unequaled Three-Year, No-Fault, Fully-Transferable Warranty that covers everything. With over five decades of experience designing and building rock-solid products, Crown is the standard in amp technology. So check out the affordable, Crown XLS Series. They are a powerful argument for quality and value!
Reliable design incorporates award-winning features
Housed in a rugged, all-steel 2U chassis.
Efficient forced-air fan prevents excessive thermal buildup.
Electronically balanced XLR inputs and touch-proof binding post and Speakon® outputs.
Features precision detented level controls, power switch, and four LEDs, which indicate clip for each channel, power and fault conditions.
Three-Year, No-Fault, Fully Transferable Warranty completely protects your investment and guarantees its specifications.